We are the Zartman family: Ben & Danielle, and our three girls, Antigone, Emily and Damaris.  We created this website/blog to chronicle our sailing adventures on Ganymede, a home-finished 31-foot gaff-rigged cutter.  Ganymede has been our home since 2009, when we sailed from San Francisco, Califonia to the Sea of Cortez, then down along the Central American coast.   The girls were five years, three years, and nine months old respectively when we began.  Our voyage carried us further than we'd dared to dream, through the Panama Canal, to South America, the Caribbean, and along the US eastern seaboard to Newport, Rhode Island, where we stopped for a breather.
A slide presentation we've prepared about our voyage thus far, "All At Sea: a Small Boat, a Growing Family, a Big Dream" has been shown at several venues, including the Annapolis boat show and the International Yacht Restoration School in Newport, Rhode Island and most recently as a part of the Adventure Series at the Mystic Seaport Museum in Connecticut  in April 2013.
The Ganymede project was born out of need for a bigger boat: when Danielle became pregnant with Antigone, we had to move off of Capella, a 27-foot Irwin sailboat that we'd sailed from Florida to South America then back to Maine.  While building Ganymede in our California back yard, we began writing magazine articles about our voyages on Capella, and eventually they led to a book, "We Who Pass Like Foam", available as an E-book on Amazon as well as Barnes and Noble.
A series of articles about Ganymede's construction also ran in Cruising World magazine, where the dauntless Backyard Warrior (me; blush!) overcomes his own ineptitude to build an ocean-going family yacht.  Cruising World continues to publish our pieces; when read in sequence they give a nice, if brief, overview of our travels thus far.  We also owe a great deal to BoatUS Magazine, who's timely purchase of several pieces (one of which later won an award), was instrumental in furthering our cruise.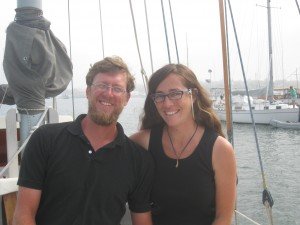 Our philosophy is to cruise simply, believing that the new places and people and foods the children will experience more than make up for the comforts of air conditoning, running water, refrigeration and electric gadgets we leave behind.  It's a challenge, often, to do without the conveniences we grew up taking for granted—washers and dryers and microwaves and television—but the rewards outweigh the challenges by an incalulable measure.  Of course it would be nice to have both: and certain cruisers can, at nearly astronmical expense, but given either or, what we are doing carries thus far no regrets.